UNIX for Testers-Automate UNIX in Test Automation (Selenium). Unix Knowledge required for Software Testers – Manual and Automate the various UNIX / LINUX processes.
What you'll learn
All Manual Unix Concepts required for Software Testers
How to Automate the various Unix Processes, so as to achieve an end to end test automation.
Learn about Putty, WinSCP
Learn about Java SSH library (Jsch) – To do automation of Unix processes
Requirements for UNIX for Testers
Good to have Basic Java knowledge
Description
Unix Knowledge required for Software Testers – Manual and Automate the various UNIX / LINUX processes, So that you can achieve an end to end test automation (If you have any Unix processes in your application).
This course will teach you (To a very absolute beginner to Unix / Linux) All about various Unix / Linux commands, processes, scripts along with Unix architecture.
Also, this course mainly covers the automation of various Unix processes like executing shell scripts / sending or receiving files to/from Unix or Linux server, so that you can incorporate this in your test automation framework and achieve an end to end test automation.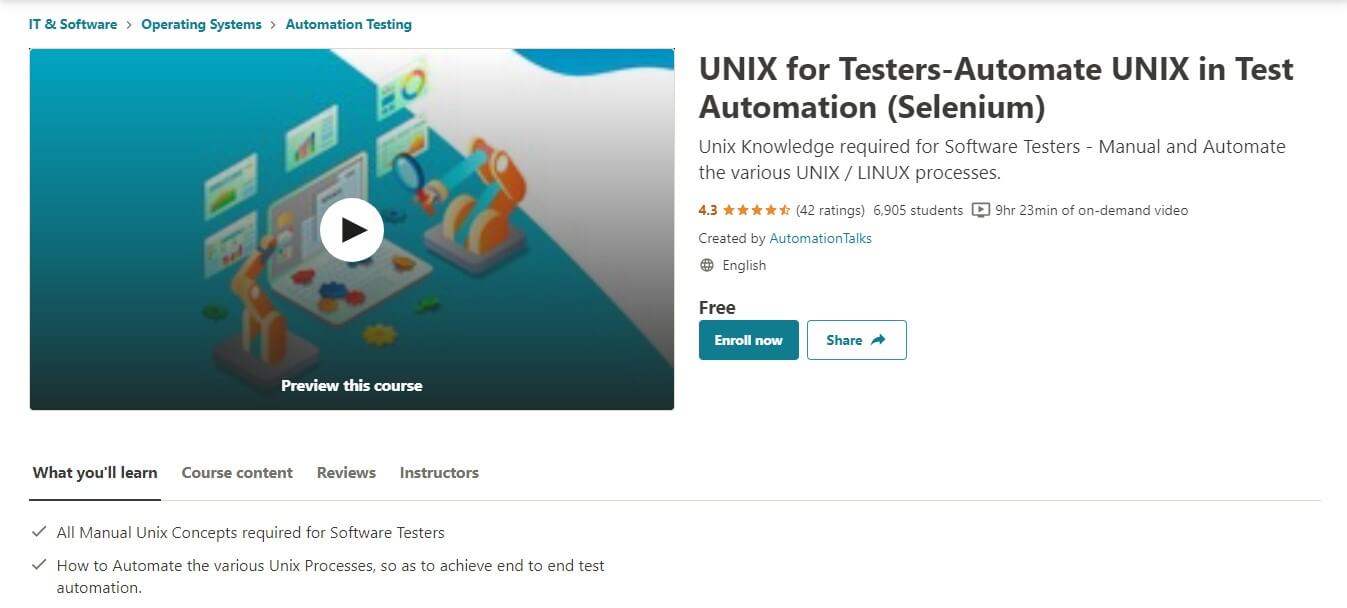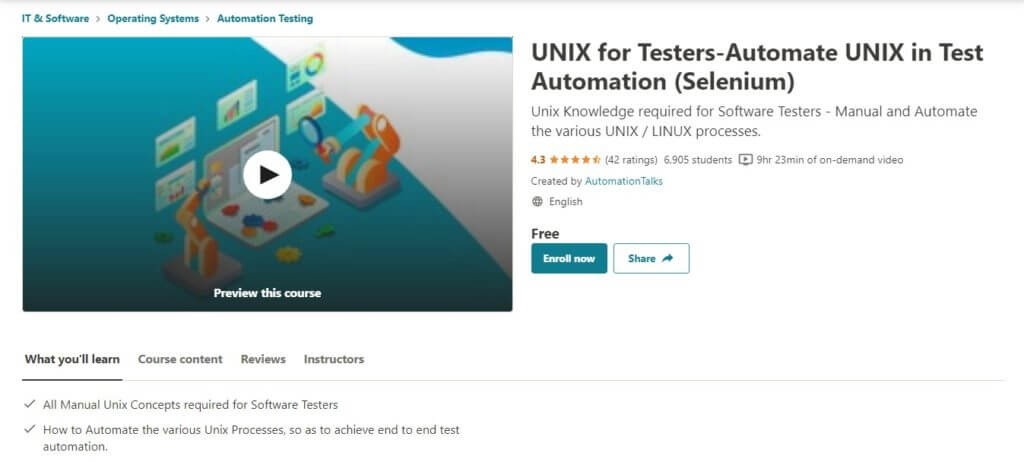 Who this UNIX for Testers course is for:
All Manual Testers
Automation testers who wish to learn how to automate Unix processes
Anyone who wishes to start there career as a software tester
Software Engineer by Profession, Love to teach & Explore
Software Professional, with rich exp in IT Industry, Passionate blogger, love to teach. Love to explore the technologies used for automation testing. I am here to share my knowledge if it can help others around the globe.
My experience includes Automation testing (Using Selenium WebDriver) & TOSCA TestSuite, Working on various DevOps tools. On my profile, you can find video courses for Automation Testing Tools.

How do i access the course after purchase?
Once you purchase a course, you will be able to access the courses instantly online by logging into your account. Use the user name & password that you created while signing up. Once logged in, you can go to the "My Courses" section to access your course.

Are these video based online self-learning courses?
Yes. All of the courses comes with online video based lectures created by certified instructors. Instructors have crafted these courses with a blend of high quality interactive videos, lectures, quizzes & real world projects to give you an indepth knowledge about the topic.

Can i play & pause the course as per my convenience?
Yes absolutely & thats one of the advantage of self-paced courses. You can anytime pause or resume the course & come back & forth from one lecture to another lecture, play the videos mulitple times & so on.
How do i contact the instructor for any doubts or questions?
Most of these courses have general questions & answers already covered within the course lectures. However, if you need any further help from the instructor, you can use the inbuilt Chat with Instructor option to send a message to an instructor & they will reply you within 24 hours. You can ask as many questions as you want.
Do i need a pc to access the course or can i do it on mobile & tablet as well?
Brilliant question? Isn't it? You can access the courses on any device like PC, Mobile, Tablet & even on smart tv. For mobile & tablet, you can download the Udemy Android or an iOS app. If mobile app is not available in your country, you can access the course directly by visting our website, its fully mobile friendly.

Do i get any certification after completing the course?
Yes. Once you successfully complete any course on the Udemy marketplace, you get a certificate of course completion emailed to you within 24 hours with your name & the Udemy badge. You can definately brag about it & share it on your social media or with friends as one of your achievement.
For how long can i access my course after the purchase?
If you buy a single course, that course is accessible to you for a lifetime.

Is there any free trial?
Currently,there is no free trial but it may be available in near future.