Maersk Line Interview Questions: Do you want to work in one of the world's largest shipping companies? AP Moller Maersk Line is looking for intelligent and talented people who can help make their company a global player. So before you go any further, please read this blog post where we'll share the Testing Interview questions of AP Moller Maersk Line.
| | |
| --- | --- |
| Post On: | AP Moller Maersk Line Interview Questions |
| Post Type: | Interview Questions |
| Published On: | www.softwaretestingo.com |
| Applicable For: | Freshers & Experience |
| Get Updates: | Software Testingo Telegram Group |
By studying these questions, we are confident you'll be better prepared for the interview process. After all, the better you know your interviewer, the better your chances of landing the job! So stay tuned for more helpful blog posts like this one – we hope to enlighten and enrich your career journey!
Info: We are in the process of making the best platform for Automation Testing Interview Questions for the testers/QA Community. For that, we need your Love ❤️ & Support 🤝. You Can share your Interview experience and questions with us at this link: https://www.softwaretestingo.com/contact-us/.
AP Moller Maersk Line Interview Questions
Interview Location: Bangalore(Virtual Interview)
Position: Sr. Quality Analyst
Experience: 6.3 yrs
Interviewed On: 04.05.2022
Updated On: 19.05.2022
For these AP Moller Maersk Line interview questions, We Thank Preeti Gupta for coming forward and sharing these Testing interview questions with us. We hope this also motivates others to share their interview experience and questions.

Still, we need your Love ❤️ & support 🤝 to build a better platform for our fellow Testing Community to make such an incredible platform where a QA can get the real-time testing interview questions in a single place.
Tell me about your expertise, your role & responsibilities.
What is the difference between driver.quit and driver.close?
What is a static block?
How and where we implement List in our selenium framework and automation scripts.
Write the code for selecting the 3rd option in the dropdown.
Write a code for swapping two variables without using 3rd variables.
Write a program to reverse a string without changing place. Input: "Welcome to Java" output: emocleW ot avaJ
How to handle multiple windows using selenium webdriver. Why do we store the windowhandles in Set, not in Arraylist?
What is the cucumber framework, and what files are required to run the framework?
How to handle the frame in selenium.
What are the changes you faced
What exceptions do you face during running scripts, and how did you resolve them?
What is the difference between restful API and SOAP UI?
What status code do you receive when you perform a post method?
Why is Soap UI more popular?
What is the difference between Post and push methods?
What test cases do you execute for API?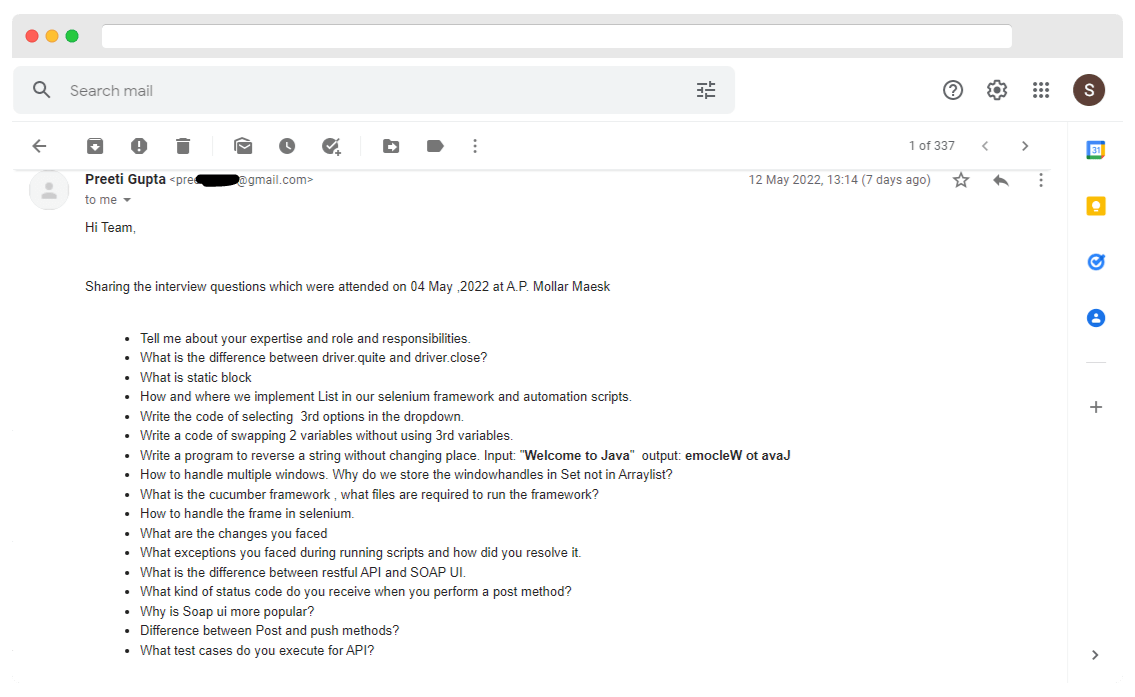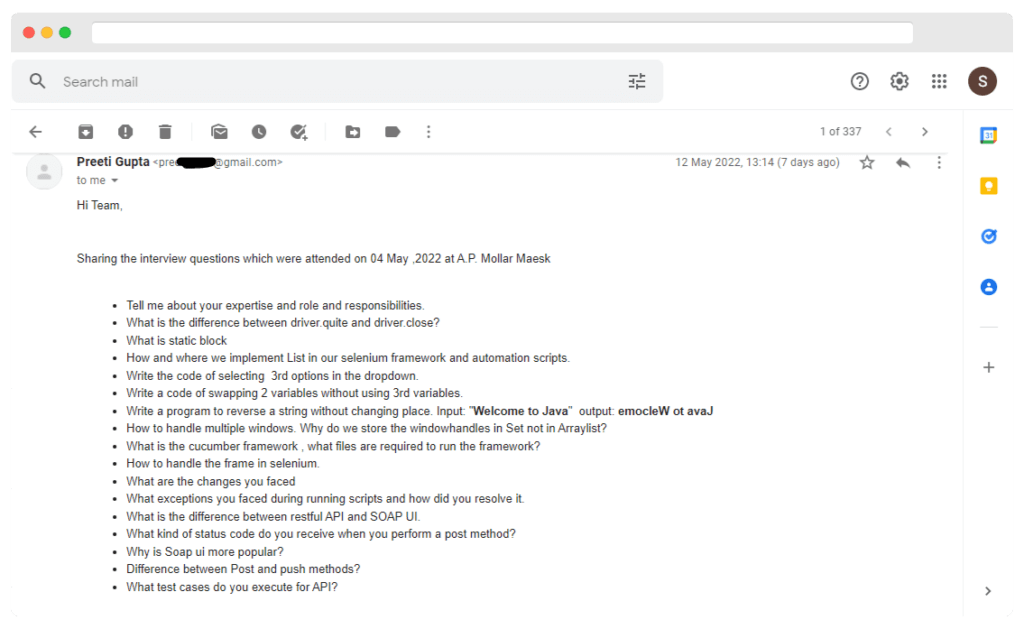 Conclusion
Thank you for reading! We hope that you found this blog helpful. Please leave any questions or comments below, and we'll get back to you as soon as possible.
About AP Moller Maersk Line:
A.P. Moller – Maersk is an integrated transport and logistics company; that goes all the way together for our customers and society. ALL THE WAY is our commitment to connecting the world so that everyone has both the possibility and the ability to trade, grow and thrive. The company employs roughly 93.000 employees across operations in 130 countries.
Frequently Asked Questions
What are the questions asked in Maersk's interview?
The questions asked in the Maersk job interview can be seen on the company's website.
How do I prepare for a Maersk Line interview?
The company website can provide helpful tips for preparing for a Maersk Line interview.
How is the MAERSK company work?
In brief, the company is organized as a conglomerate of businesses operating in shipping, logistics, and energy. The MAERSK group employs over 100,000 people in over 100 countries and operates in over 20 oceans.