Test Cases For Analog Alarm Clocks: In this article, we will discuss how to write Test Cases For analog alarm clocks. In the old posts of Software Testingo, we discussed various test cases. So let's look at the test scenario & various test cases of the wall clock.
| | |
| --- | --- |
| Post On: | Test Cases For Analog Alarm Clock |
| Post Type: | Test Case Template |
| Published On: | www.softwaretestingo.com |
| Applicable For: | Freshers & Experience |
| Check Here: | Join Our Telegram Group |
Test Cases For Analog Alarm Clock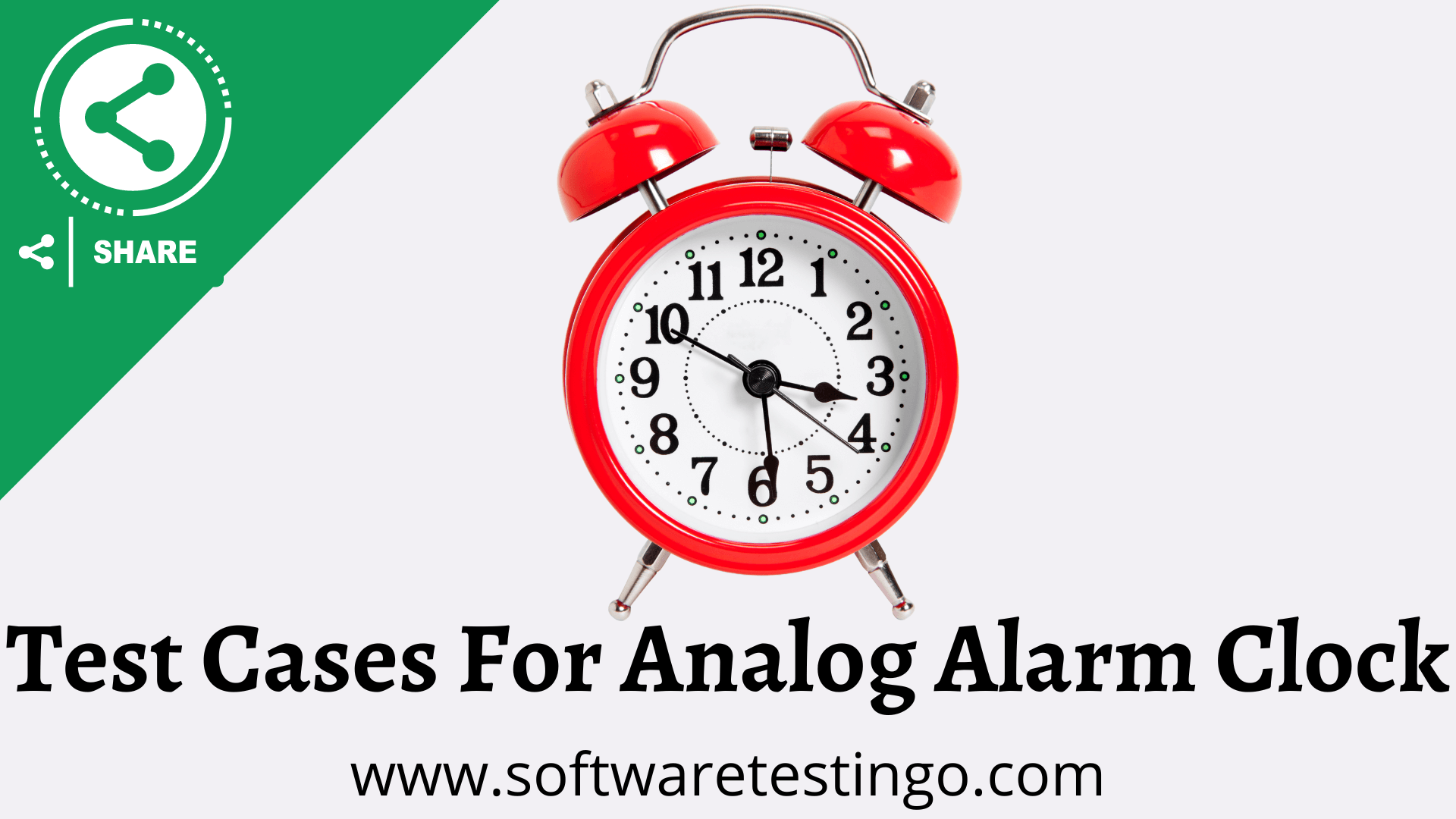 The numbers read 1 through 12
The numbers are presented in a clockwise manner
All numbers are legible from a reasonable distance
All numbers are located along the outside of the clock's surface
All numbers are equidistant from one another
Each number is at its proper location (ex: 3 is at 90 degrees)
The hour and minute hands are visible from a reasonable distance
The minute tick marks are legible from a reasonable distance
Sizes of numbers, tick marks, hour, and minute hands are relatively congruent
Inserting the battery is easy and intuitive
Removing the battery is easy and intuitive
Inserting a fresh battery causes the clock to mark the time.
Clock reports time with reasonable accuracy after 3, 6, 12, and 24 hours
Changing the time is easy and intuitive
Hanging the clock on a wall is relatively easy to do
An encasement protects all moving parts
The watch has company branding per the specification.
The clock has a reasonable battery life.
Check whether all the digits are clear and big visible from a vision distance.
Check digit's color should not match the color of the clock background.
It should also work to check if the clock is placed on any wall.
To check the time is shown clearly and correctly
Check the clock is flexible to stick on the wall.
Check whether the movement of the pendulum is smooth or not
Make sure the minute hand is not making too much sound while rotating.
Check the length and the weight of the pendulum if it is present.
If you find any test cases for mobile alarm we missed, you can comment in the comment box so that we can update this post.