Test Case For Google Meet: We are sharing the latest interview test cases in this post. This Google Meet is an application developed by Google as a communication platform that helps with messaging, video chat, and VOIP features.
| | |
| --- | --- |
| Post On: | Test Case For Google Meet |
| Post Type: | Test Case Template |
| Published On: | www.softwaretestingo.com |
| Applicable For: | Freshers & Experience |
| Join Here: | SoftwareTestingo Group Link |
Google Mainly developed this product for its telephony product like google voice, which has already integrated with Google Hangout. So during the hangout, you may face some problems, like the audio is not clear and the video quality being good. So when you face such a situation, how can you test the application?
In some interviews, you may face some real-time scenario test cases which are asked to write in the manual testing interview rounds. When the interviewer is asked to write such types of real-time object test cases, you have to think about the object's functionality, and according to that, you have to write the test cases.
For such real-time scenario-based interview questions and other manual test case templates in excel, test scenario templates & how to write test cases in excel. You can get these ideas by following the previously shared test case templates or software test case templates.
Google Meet Test Cases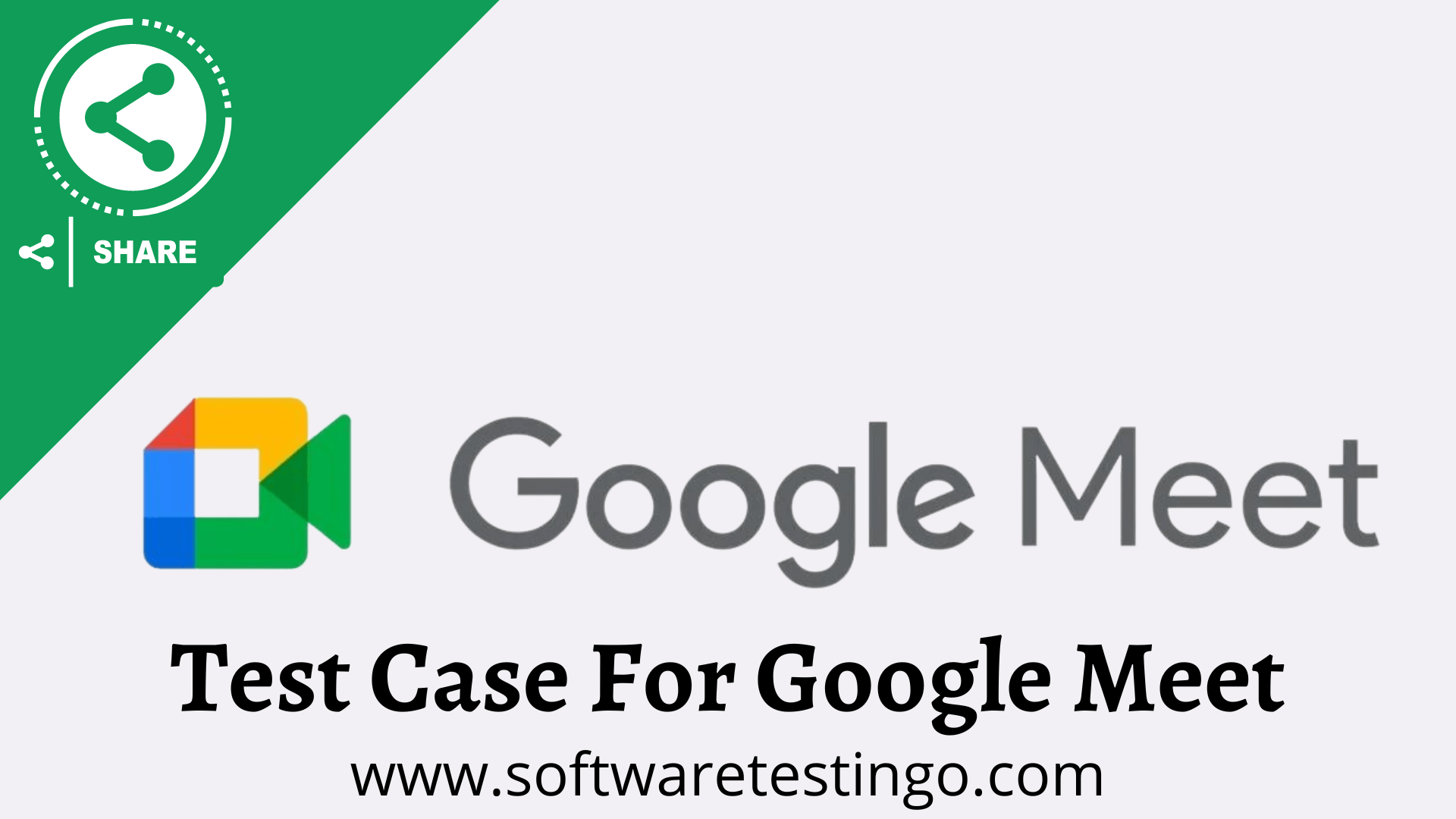 We will try to help you write the test case for the Google meeting.
Check whether the camera is turned on.
Check whether the connected device has a camera option
Check whether the internet connection is switched off
Check the video chat after refreshing or restarting the app
Check whether the Gmail account has been logged out.
Check whether the camera option is disabled in the device
Check whether the camera is not working in the device
Check by opening the hangout on mobile or other devices.
Check by opening the hangout in the different browser window
Check by opening the hangout in a different browser
Check whether the javascript is disabled
Check after clearing the cache of the browser
Check after clearing the cookie of the browser.
Just now, Google has developed a new application to replace Google Hangout. The new app is called Google meet. It is much similar to Google Hangout, but by using Google meet now, you can join meetings and create meetings, and it also has all the functionality you have previously found in Google Hangout.
Conclusion:
If You have identified any missed test cases, you can comment about them in the comment section so that we can update them in the existing list.
FAQs on Google Hangout
Do you need a Gmail account to use Google Hangouts?
You'll need to create a Google Account if it's your first time using Hangouts. Please prepare in advance. If you have a Gmail account, you already have a Google account and can use it for Hangouts.
Is Google Hangout free to use?
Google Hangouts. For free, hangouts bring conversations to life with photos, emojis, and even group video calls. Those who have Gmail accounts can use Google hangout for Free.
Can anyone use Hangouts?
Yes, those who have a Gmail account can use Hangout for free.
What is the new name of Google Hangout?
The new name of Google Hangout is Google Meet.
How can I record a google meet Video call?
To record google meet, you have to join the meeting; then click the activities icon to get the recording option.