Spiral Model Of Software Development in Software Engineering: In this tutorial and article, I am going to explain the spiral model in SDLC. This article is intended for all those people who are willing to learn more about the Spiral model of Software development Life Cycle (SDLC).
Spiral Model of Software Development
The Spiral model is one of the most popular software development models. It is a very effective and flexible approach for developing software. This model has been developed by Barry Boehm in 1986 after his studies on cost estimation and project management. Since that time many organizations have used this model to build successful projects successfully. In this article I am going to cover the following topics: –
What is spiral model of SDLC?
Why we need Spiral Model in SDLC?
How to use the spiral model in SDLC process?
Advantages and Disadvantages of this model with reference to real life projects
What is Spiral model in Software Development Life Cycle (SDLC)?
The spiral model is a software development life cycle (SDLC) that was developed by Barry Boehm in 1986. The main purpose of developing this model is to manage the cost and time in the software development process. As we know, Software Development Life Cycle (SDLC) contains phases like Requirements, Design, Coding, and Testing, etc. As we go through these phases, the software product is being developed. At the end of each phase, there was a huge cost involved in terms of money and time from the customers' point of view.
The main goal of this model is to manage or control such a huge expenditure at every phase step. So that it could be reduced as much as possible to meet the project deadline. The approach of this model is to optimize every phase step in which a large cost will be incurred by doing some activities repeatedly. The spiral model emphasizes more on getting and setting up the requirements completely before proceeding to the next step.
So the main purpose of the spiral model is to save money as much as possible during each phase of SDLC.
Why we need Spiral Model in SDLC?
As I have already mentioned above, the main purpose of developing the spiral model is to save money and time at each phase step in the SDLC process. But before going forward let me clarify that when I say cost here, it means both cost of time as well as money. The main goal is to optimize the overall cost of the software development process.
So let's discuss how we can save time and money during each phase step by using this model. Let's start with the requirements phase first: At this stage, we need to gather all the user requirements properly before beginning the design. It is a common perception that gathering requirements alone will consume more than 40% of the overall project time. But if the spiral model is used, the majority of these efforts can be reused at later phases.
So what will happen in practice? The moment requirements are gathered from users, it is stored in the database or any kind of document repository. Then we start designing the software. Once the design is completed then we can extract the design into code. This is how we can save money by using this model.
Moreover, there are some other ways to implement the spiral model in order to cut down the cost of each phase step:
Organize a user group meeting at regular intervals such as weekly or monthly and update them about the latest scenario with respect to project progress. It will reduce the cost of requirement gathering.
Do not wait for all requirements to be collected before beginning the design phase. Start with the first requirements which are more critical and go ahead as soon as possible. Don't wait till you collect all the user requirements completely. This can save a lot of development time at each phase step since the majority of work done at one phase can be re-used in other phases.
To summarize, the Spiral model is an effective way to develop any kind of software product as it saves both money and time during each phase step. One more advantage of this model is that a lot of time-consuming activities like requirement gathering, designing, etc can be re-used for the next phase. That is why more and more organizations are adopting this approach than in earlier days.
How to use the spiral model in SDLC process?
So we have discussed what exactly is a spiral model is and why we need it in SDLC. But how to use this model effectively? Well, here are some simple steps to follow while using the spiral model in the SDLC process:
First of all, gather all the necessary user requirements properly. Then go ahead with the development process by extracting design from the business requirements. Then code the design and create test scripts for the same. Once these are done, hand over it to the QA team, who in turn will perform a sanity check on software before giving it to users to check its functionality. In this way, you can save money and time at each phase step by using the spiral model in the SDLC process effectively.
Spiral Model in Software Engineering Life Cycle
In this section, we will see how exactly the spiral model is used in SDLC. As we discussed before that without proper guidance it's really hard to use the spiral model in the right manner. But this confusion will be resolved when you understand the different steps required for using the spiral model effectively. So let's discuss these steps:
The First step is to start with an idea. This is usually the phase when developers or entrepreneurs come up with new ideas so that they can create a new product or software. A team of skilled personals is also selected for executing this project effectively and efficiently.
The second step is to do a feasibility study on the idea. The feasibility study will help you in determining the cost of software development required to build it, the time is taken for developing it, and its functionality as well.
The Third step is to create a business plan based on feasibility study results. The business plan should clearly define the Target Audience, Market Share, Estimated Cost of Software Development, etc.
The Fourth step is to develop the initial prototype version for the product which will help you in proving the feasibility of your idea.
Fifth step is to do User Acceptance Testing (UAT) on the prototype version. This testing should be performed by target users as well. If feedback from UAT is positive then the next step is identifying and resolving risks which we already discussed here.
Once you are done with resolving risks then you can proceed to the final version of the software. This is the phase when you will work on adding more features as per your business plan or user requirements.
Once this process is done then final testing should be performed and all defects if any should be fixed.
Finally, the product will have to be deployed so that users can use it.
User feedback on the final product should be collected and analyzed in order to identify any further enhancement required in the future. This is exactly where the spiral model comes into the picture, as you will go back to the first phase of this model whenever your customer wants to change something or add new features later on.
The cycle can be closed when all user requirements are satisfied or the business model comes to an end.
Looking at the steps involved in using the spiral model in SDLC, it is very clear that there will be a lot of hurdles until you reach your objective. But this is where the true value of this model lies, as it appropriately addresses these hurdles in the right manner and makes the process of software development extremely efficient.
Different Phases of Spiral Model in SDLC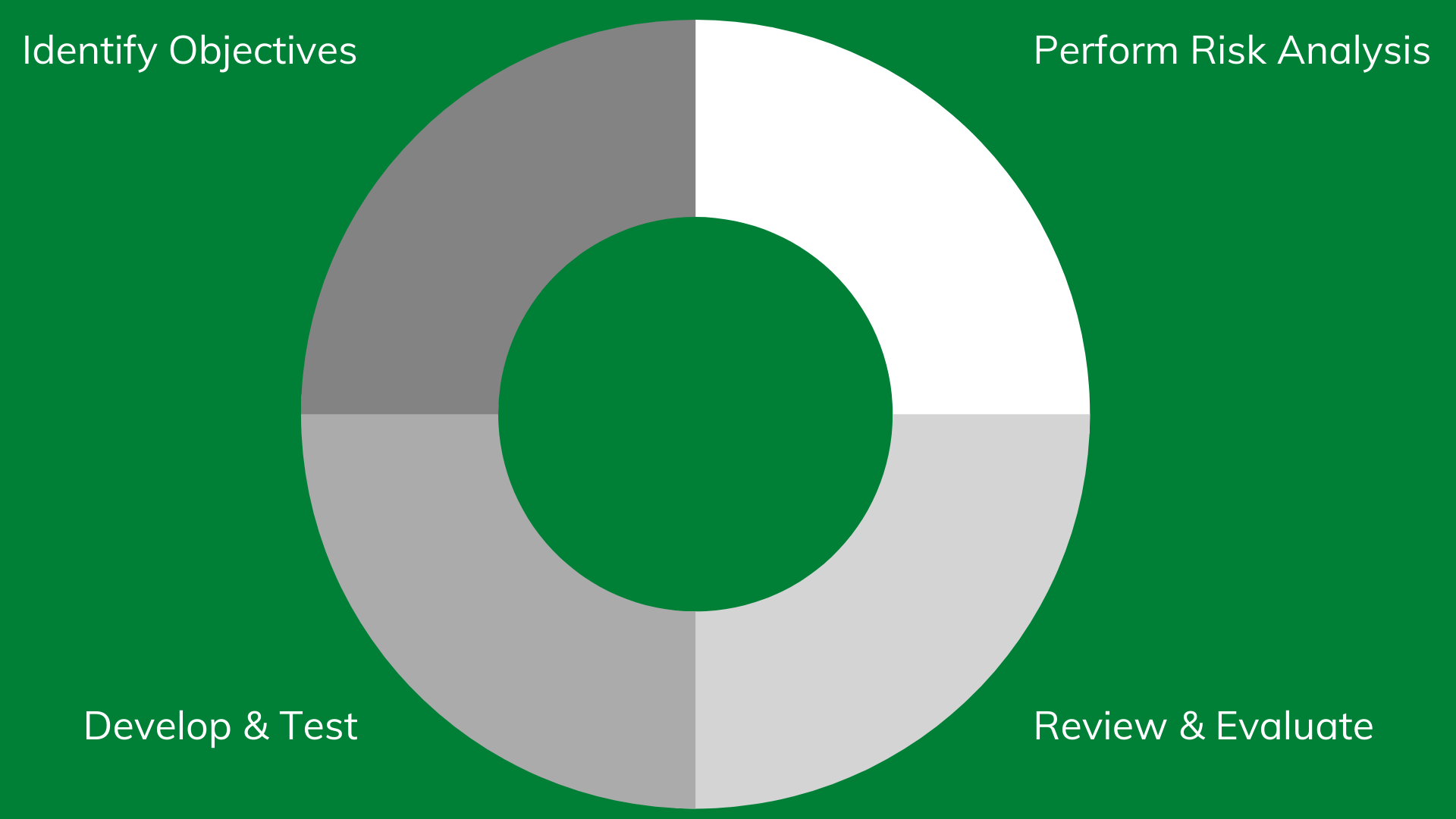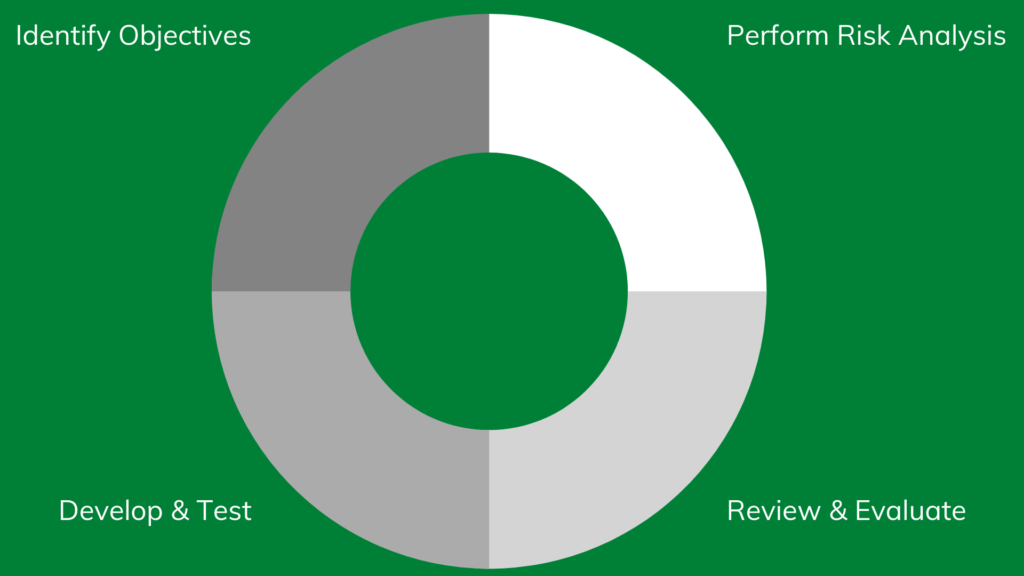 Now we will see different phases of the spiral model in detail:
Objectives Determination and identify alternative solutions:
At the start of every phase, requirements are collected from the customer, and objectives are identified. These objectives are elaborated on and analyzed in this quadrant. In this quadrant more discussion with clients is done to collect their requirements and if possible a prototype is created in the presence of the client to evaluate the product quality. Normally during this phase requirement gathering exercise, change requests are also seen from clients and these requests are treated as risks for the next development phases.
Identify and resolve Risks:
Once the objectives are collected from the client, all possible solutions are evaluated in this quadrant for best potential. In this step, a prototype is developed using technology that can be changed easily if requested by a client later on. If any risks come up during the development of the prototype then they are identified and resolved in this phase.
Develop next version of the Product:
In the third quadrant, features are developed and tested. It is at the end of this time that a new version of the software is available. In this step, all changes done in previous steps are implemented.
Review and Plan for Next Phase:
It is in the last phase where clients come and evaluate the product that is being developed. In this phase, the client tells whether any changes need to be done in the previous version of the software or not. If yes, then what kind of changes are required? After getting feedback from clients, further development work for the next version is planned by developers.
What are the Advantages of using spiral model in SDLC?
There are many advantages of using the spiral model over some of the other software development models. Some of these advantages are listed below:
Since this model encourages iterative and incremental processes, it is very easy to make changes in the software. So if you want to modify any functionality then you can do so without investing much time or money.
This model also brings a well-defined structure with every phase having clear objectives, deliverables, and dependencies on the previous phase. So it makes the transition through each stage of SDLC smooth and seamless.
Due to timely identification of risks and mitigation steps, reduces the number of issues that might otherwise come up later on in the project life cycle.
With clear explicit deliverables defined for each phase, there is also a possibility of reducing the cost considerably by managing project resources effectively. This is one more area where the value of the spiral model is evident, as it will help you in identifying and resolving issues well before anything becomes critical.
Working with a clear business plan and top-down approach makes this model very suitable for IT organizations that are heavily dependent on some or other business-related factors to make their profit. After all, development is expensive so better to deliver quality software products at right time with minimum risks involved.
Since this model is very well structured, it also helps in managing day-to-day activities easily. This means that your project team will be able to focus on just what they are supposed to do and not so many things like other models like Waterfall SDLC.
Finally, if you have a new idea that might eventually turn into a product then the spiral model can very well help you in proving the feasibility of your idea. For this, all you have to do is to identify and define the scope of your project completely.
With so many advantages, it is clear that, unlike Waterfall SDLC which only focuses on the development of the software, the spiral model also focuses on all other aspects of project preparation which can help you in reducing any risks and ultimately make sure that your project is successful.
The above-mentioned advantages are just some of the main ones out there. But even these are enough to prove that the spiral model is better than Waterfall SDLC, or any other software development model for that matter.
To conclude, the spiral model is not just any other software development model out there. Rather it provides a new dimension to the SDLC life cycle by defining all necessary steps which might be required to develop and deliver the final product.
Since this model is based on an iterative approach, it is also very easy to use. As a result, using the spiral model can not just help you in developing high-quality software products, but also help your project team in proving the feasibility of their ideas easily.
If you are looking for other models then may we suggest that you look at Agile Software Development and DoD Software Life Cycle.
What are the disadvantages of using spiral model in SDLC?
Are there any risks associated with using the spiral model? Yes, as with any other software development model, there are also certain risks involved with this one. Some of these risks are listed below:
Since the initial planning is done after developing the system in the last phase of the spiral model (this is unlike Waterfall SDLC which focuses on phases like requirement analysis and design in the initial phase), changes to project objectives are required, which might make it difficult for your team members to manage their time well.
Since you have already developed the system, there is very little time left and hence no place for any new ideas. This makes it difficult for your project team to come up with new innovative ideas which might otherwise have been possible in Waterfall SDLC.
This model mainly focuses on software development and this can cause a delay in releasing anything to the market, thereby reducing your chances of making profits due to no competitive advantage in terms of time.
Since each phase has very specific deliverables and with a short period available for each phase, there is a great risk of missing on any one of these deliverables. This can lead to changes in performance measures and hence impact your project objectives negatively.
Since you are looking at multiple phases, it might become a difficult task for your team members to see the big picture along with their immediate tasks. Therefore, they might lose focus on project objectives altogether.
Spiral Model VS Waterfall Model
Factors to be considered while choosing between Waterfall SDLC and Spiral model? As you can see, the spiral model is much better than Waterfall SDLC in so many areas such as planning, quality and even focusing on the big picture. So which software development model should you choose then?
Well, if you are looking for a model which can help you in the development of software products, then the spiral model is the better option. However, if you are looking for a model which deals with multiple projects and has to work on them simultaneously (like many companies do), then Waterfall SDLC is what you should choose. This is mainly because they focus on project completion rather than making sure that the product is of the highest possible quality.
In case you are looking for any other model then we also suggest that you have a look at RAD and DoD Software Life Cycle. Both these models can also help you in developing software products but in different ways. For more details on these models read Agile Software Development vs RAD vs Waterfall vs DoD vs Spiral: which approach is best?
Do you have any questions for me? Please drop a line below. I will be happy to help you 🙂
If you like my ideas, please click on the social buttons above (Facebook, Twitter, etc.) to share them with your friends and colleagues. Thanks in advance for your support 🙂
If you have any feedback or suggestions about my article, feel free to contact me using the Contact Me page. I would love to hear what are you thinking. Cheers!