Test Case For Laptop Bag: Laptop bags are essential for everyday carry, and there's a wide variety. Whether you're looking for a carrying case that will protect your laptop when you travel or one that can act as your work bag, there will surely be a style that suits your needs.
The bag comes in different colors and sizes, so it will surely fit any person's style. Additionally, it has compartments that are perfect for holding all of your tech essentials, such as chargers, headphones, notebooks, etc.
| | |
| --- | --- |
| Post On: | Test Case For Laptop Bag |
| Post Type: | Test Case Template |
| Published On: | www.softwaretestingo.com |
| Applicable For: | Freshers & Experience |
| Join For Updates: | SoftwareTestingo Telegram Group Link |
The adjustable straps make it easy to carry around whichever way you want. Lastly, the Laptop Bag also doubles as an amazing travel cover for laptops! So whether you're on the go or need extra protection for those precious electronics, the Laptop Bag has you covered!
The list could vary on the actual requirement of the bag, but here are a few:
Test Case For Laptop Bag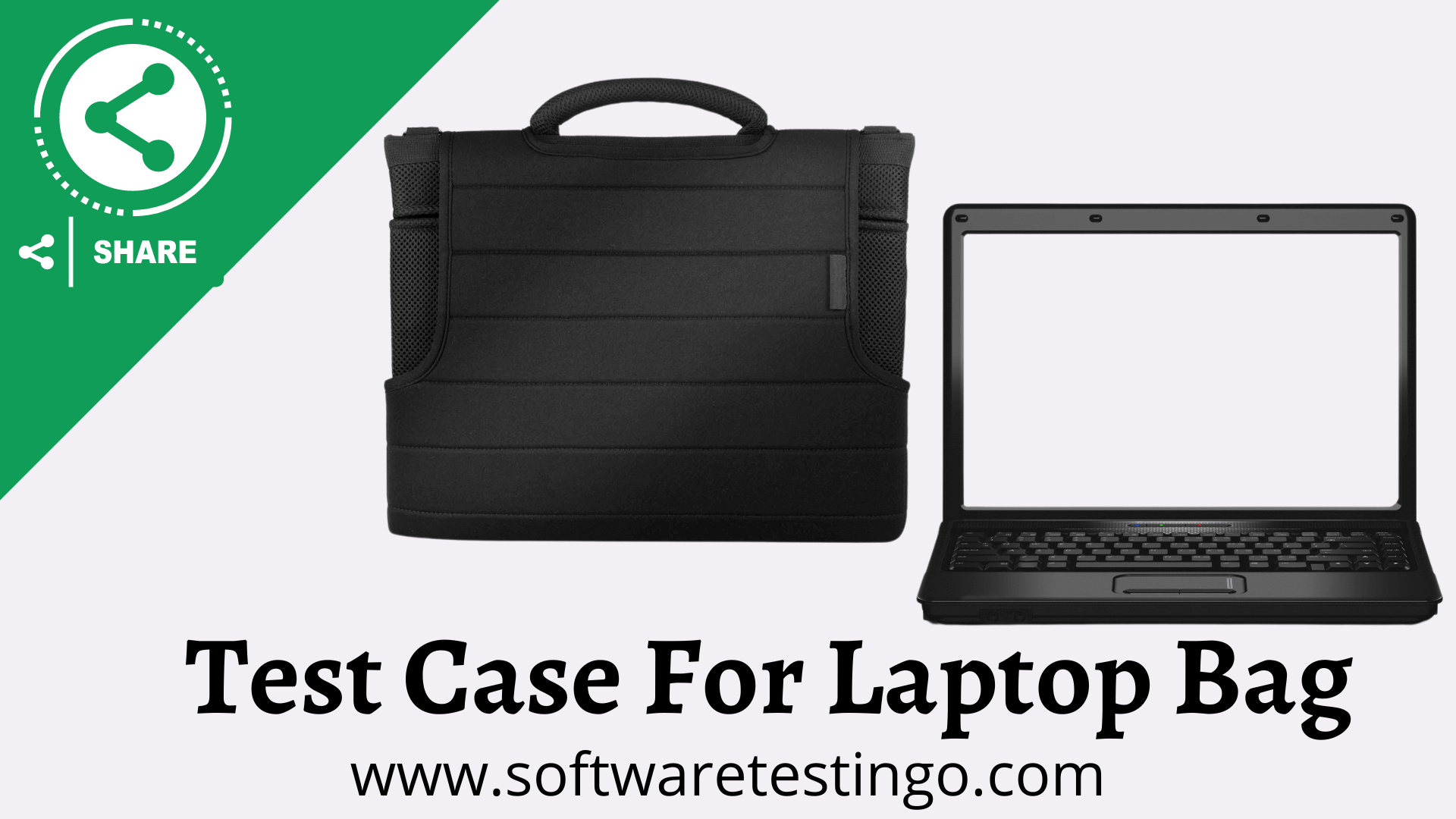 Is the bag able to fit the laptop?
Is the bag able to handle the weight of the laptop?
Is the bag flexible to adjust the length of the belt?
Does the bag have a label/tag to mark the owner's name?
Is the bag water-resistant?
Check it should be cost-effective.
Check it should be durable.
Check if it is big enough to fulfill the requirements for traveling.
Check it; it should have wheels that are easy to move.
Check that it should be secured (It should have theft-protecting features).
Check the size, which should be as per our requirement.
Check it should be easy to handle in a rush (able to take in hand & also able to set on back.
color of the bag should be proper as per the company logo or attractive,
Check it should have different compartments for laptop, files, small things like dairy, pens & others.
Check it; it should be tough against a heavyweight.
Check that it is waterproof to protect the material.
Check it should have a proper lock.
Check if it has wheels(if possible).
Check it should have some compartment check with zipping, which can be used even if the bag is locked for regular use things like a calculator, pen, or dairy.
Check it to ensure it has no sharp edges that can damage anyone.
Conclusion:
Finally, we have reached the end of the test scenarios for laptop bags. But if you find some other test cases for laptop bags, kindly inform us in the comment section. We will try to add those missing test scenarios in our blog post.