Java Programming language: Java is such a type of programming language which is class-based, object-oriented, and concurrent. One of the main features of the Java Programming language is "write once, run anywhere (WORA)." The meaning of WORA writes the java program for a single time and compile the java code. After that, you can run the compile java code in any platform like windows, mac, Linux without doing recompilation.
We are posting a series of tutorials on Core Java and Selenium. So that every tester and Java learner also get benefitted. Follow those links to get the full idea on those topics.
Java Programming Languages Features
Let's discuss some of the Java Programming features :
Simpler: Java programming language is easy to learn because it does not include concepts like pointers and operator overloading, which is available in C++.
Object-Oriented: It is one of the main features of Java by which it is one of the most popular languages. Because of this feature, you can model the program into an object which can have data and behavior. Java has four object-oriented concepts like Abstraction, Encapsulation, Polymorphism, and inheritance.
Robust Language: Java language developed in such a way that it can do early checking for possible errors. Where we can say that when the compiler compiles the java code that time java compiler can detect the java errors, but when you compare this feature with another programming language, maybe you may not find such rich features. There are other few features are there which make java is robust like garbage collection, Exception Handling, and memory allocation.
Secure: In Java You May not find concepts like a pointer, and you can not access the out of boundary arrays element in java, which makes Java more secure.
Architecture Neutral: Java is Architecture neutral because java does not have such types of features which are dependent on the architecture of the environment. For example, the size of the primitive data type in java has fixed, which is 4 bytes. In contrast, the c programming languages int data type takes 2 bytes memory for 32-bit architecture and 4 bytes for the 64-bit architecture.
Multithreading: Because of Multithreading feature of java, you can able to run parallelly execution of two or more parts of the program by which you can able to do maximum utilization of CPU.
Platform Independent: As we already shared that after compile you get the bytecode, which is platform independent so you can execute the same code in a different system and different environment by this feature Java is platform-independent or portable.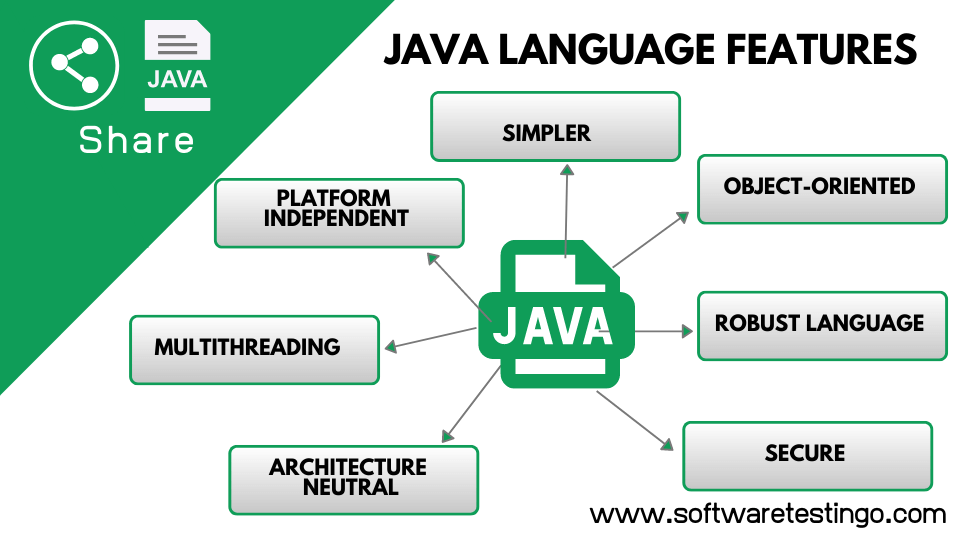 Along with all the above Java Programming feature, java programmers also get benefits from the Good Java community members and other benefits like:
Oracle powers java: As you know that Java acquired by one of the best leaders of Industry Oracle. So you get more support from big companies like IBM, Google, Redhat.
You will get lots of open source libraries that help to build your application or help you with your project.
There are lots of tools and IDE are available to write, compile, and run your project. With those tools, you can be more productive.
Many frameworks help you build highly reliable applications quickly.
The community around Java technology is massive and mature so that you can get support quickly.
Because of such rich java features, Java is ranking in #1 as the programming language in the world by popularity. So we are happy to congratulate you on choosing Java as a programming language for developing or testing your application.  If you want to learn all the features of Java, then follow our complete core java tutorial series of posts. And let me know if we missed something in the comment section.