Introduction to Java | History Of Java: In our previous post, we discussed what Java is and Core Java Tutorial for Beginners; now, we will concentrate on various Java topics.
Introduction to Java Programming Language
Java is a high-level programming language that has gained immense popularity over the years due to its simplicity, security, and platform independence. Sun Microsystems originally developed it in 1995, and after that, Java has been widely used to create robust and scalable applications for desktop, web, and mobile devices. This can happen because Java has features like object-oriented nature, rich API, and automatic memory management, making it a popular developer choice.
Java is also the language of choice for developing Android mobile applications. With its ability to run on multiple platforms, Java has become one of the most sought-after programming languages in the industry. This introduction to Java will provide a basic understanding of the language's fundamentals, syntax, and features, which will help you start with Java programming.
Java Terminology
Like other languages, when we are planning to learn any coding or scripting language, we must be familiar with the terminology used in that programming language because the terminology will help us understand the programming language in a better way. So before starting the Java concepts, we will review the terminology first. And here are a few common Terminology of Java language:
Java Virtual Machine (JVM)
Before starting the discussion about the JVM (Java Virtual Machine), we have to understand the phases of the program execution. So the stages are:
Write the program
Compile the Program
Run the program
So as a developer or a tester in the first phase, we need to write the code. As we are learning the Java language, When it comes to the compilation of the program, we are taking the help of the Javac compiler, so the primary function of the Javac compiler takes the Java program as the input and converts that to byte code as output. After that, in the final stage, JVM executes the bytecode, which is generated by the Java compiler.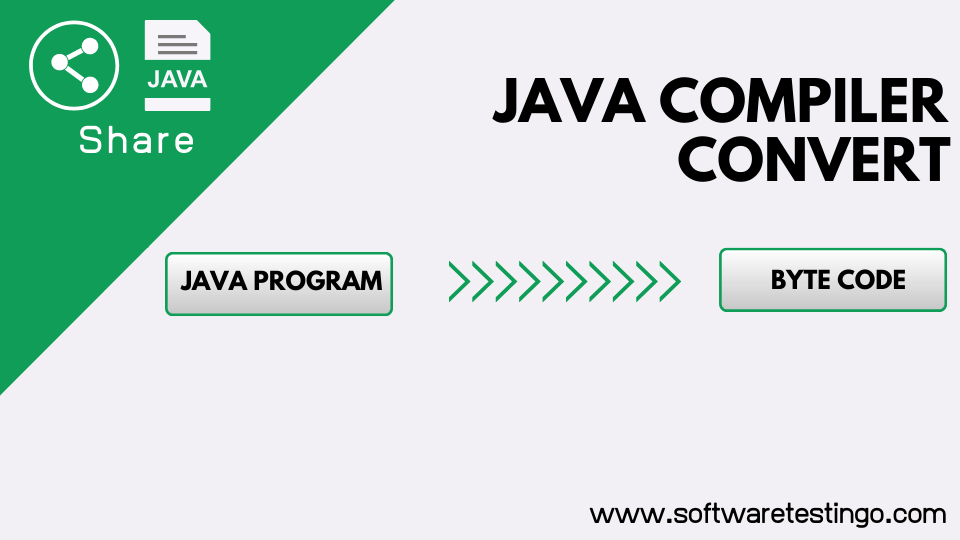 After the Java compiler generates the byte code, the next Someone needs to execute the byte codes. Here JVM comes into the picture, which is executing the bytecode (Read: JVM architecture ) generated by the Javac compiler. But One thing you keep in mind is that each operating system has a different JVM. Still, the output we get after the execution of bytecode is the same across all operating systems. Because the Java programming language has a feature called a platform-independent language.
Java Development Kit (JDK)
As the name suggests, it is a complete Development kit that includes JRE (Java Runtime Environment), compilers, and various tools like JavaDoc, Java debugger, etc. So when you try to run a Java program, then in your system, JDK needs to be installed; otherwise, you can't run the Java program.
Java Runtime Environment (JRE)
As we have mentioned in the JDK that JRE (java runtime environment) is a part of JDK. If JRE is installed on your system, you can run the Java program, but you can't compile it.
There are so many other terminologies that are also present in Java, but we are trying to explain those terminologies, which are very common. We hope you got a clear idea about the above terminologies; if you still have any doubts about those Java Terminologies, feel free to comment in the comment section; we are happy to help you.
This is the basic post of the Core Java tutorial series, but when we start learning, we will discuss various topics in detail, which will help you to learn this popular language in a simple manner. Also, we plan to share each topic with some simple Java example programs so you can get a clear idea about those topics.
During the learning process, if you have found any mistakes or you want to add some more things to this post so that it will be more helpful to others, then you can share those details in the comment section, or you can mail us at softwaretestingo.com@gmail.com.
Who created Java?
Java was created by James Gosling at Sun Microsystems in 1995. Later Java is acquired by Oracle.
What is Java programming?
Java is a high-level programming language developed by Sun Microsystems. It was originally designed to develop programs for set-top boxes and handheld devices but later became popular for web application creation. The Java syntax is similar to C++ but is strictly an object-oriented programming language.
When was Java created?
Java Is Created in the year of 1995
Who Is the Creator of Java?
Java is one of the most popular languages in the world & James Gosling created it.