Zycus Interview Questions: The most important part of preparing for an interview is practice. Knowing what job interview questions you might be asked is essential – that way, you can craft your answers well in advance and feel confident in your responses when the pressure is on.
Wouldn't it be great if you knew exactly what interview questions are asked for the Test Engineer and QA for Manual & Automation Positions? Unfortunately, we can't read minds, but we'll give you the next best thing: a list of previously asked Zycus interview questions and answers.
| | |
| --- | --- |
| Post On: | Zycus Interview Questions |
| Post Type: | Interview Questions |
| Published On: | www.softwaretestingo.com |
| Applicable For: | Freshers & Experience |
| Get Updates: | Software Testingo Telegram Group |
We have tried to share some of the Automation Testing Questions, but we recommend spending some quality time to get comfortable with what might be asked when you go for the Zycus interview.
Still, we need your love and support to make this platform more helpful to our fellow testers. So it would be great to share your recent interview questions and experience with us. You Can share those details by connecting with us at softwaretestingo.com@gmail.com.
Zycus Interview Questions
Company Name: Zycus
Company Location: Bangalore, India
Updated on: 30.06.2021
Automation Testing Interview Questions
Which automation framework do you follow? E.g., Hybrid automation, etc
Hybrid of which two frameworks do you use?
Explain your automation framework structure.
If, on a webpage, there are two popup windows with common attributes. We have tried every attribute available but cannot uniquely identify both the popup windows. If we use any locator, then both the popup window is identified at the same time.
We want to close only the 2nd popup, but we can only close the 1st popup. How can we handle this scenario?
How to handle dynamic popup messages using selenium webdriver? Suppose there is one popup that comes dynamically means it comes at random times when launching a web application?
What is the use of listener class?
How many types of listeners are available in TestNG? Which type of listener do you use in your framework?
How do you integrate test data into your POM structure? How is test data called in your framework?
How can we execute the same test cases in different environments/servers?
How can we execute the automation suite with different test data in different environments? E.g., In the QA environment, we want to execute with test data 'abc,' and in the UAT environment, we want to execute with test data 'XYZ? How can we achieve this?
How to pass the value returned in the previous page/scenario into the drop-down element of the current page? Suppose we have a drop-down in the current webpage; in this drop-down, we have to pass the value returned from the previous selection or scenario.
Different types of locators available in selenium
What is the method overloading and method overriding in java? Explain with an example.
In method overloading, can we have two methods in a class like the one below:
Method 1
Public void add (int a, String b)
Method 2
Public void add (String b, int a)
Will method overloading work in this case?
Manual Testing:
How do you find out RCA of any production issue? What is your approach to finding RCA?
What is the difference between smoke and sanity testing?
Suppose in a bottle manufacturing company, and there is various type of bottles manufactured daily. You have to test the bottle and identify low-priority-high severity defects. What defects can be considered as low priority-high severity in this example?
Imagine you have any rectangular object, and you have to cut this rectangular object in 8 equal pieces in the max of 3 straight cuts. What can you do?
Write all the possible test scenarios for the below flow: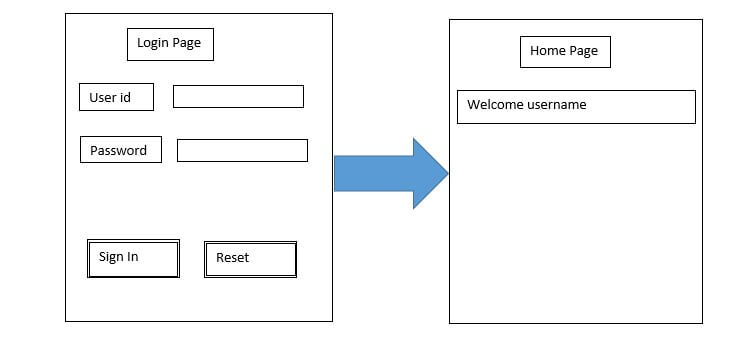 Explain web application architecture.
Write a SQL query to select five employees who have a max salary.
Tell me about your framework.
From 1-100 1, no missing how you will find that no.
How you will write XPath.
How you will reverse the array.
If the element were not visible, what would you do?
If you are not able to click on the webpage, what will you do
About Zycus Company
Zycus is a leading global provider of a complete Source-to-Pay suite of procurement performance solutions. Our comprehensive product portfolio includes applications for procurement's strategic and operational aspects – procurement, eInvoicing, Spend Analysis, eSourcing, Contract Management, Supplier Management, and Financial Savings Management.
Our spirit of innovation and passion for helping procurement create greater business impact is reflected among the hundreds of procurement solution deployments we have undertaken over the years. We are proud to have as our clients some of the best-of-breed companies across verticals like Manufacturing, Automotives, Banking and Finance, Oil and Gas, Food Processing, Electronics, Telecommunications, Chemicals, Health and Pharma, Education, and more.
Back in the 1990s, when the commercial Internet was still beginning to revolutionize the way we live, personally and professionally, the founder of Zycus was inspired to develop web-based business applications for procurement professionals. We started our journey in 1998, and like any new company, our first big challenge was to find the very first customer.
When we won GE, we knew we were doing things the right way ever since, we have continued on the path of innovation to provide sophisticated end-to-end procurement solution suites with one focus – our customers' happiness.
It always gives us an immense sense of pride to successfully serve an array of Global 1000 companies across various industry verticals that use multiple products from our procurement solution suite. It motivates us to work harder. Here's a look at some of our customers.
As a pioneer in building a truly integrated source-to-pay suite of solutions, we have kept ease of integration with any ERP or third-party system as a key consideration during our product development. Zycus eProcurement solution can integrate seamlessly with your ERPs to offer you a combined view of information and a cohesive central platform for your purchasing operations.