What you'll learn
Create a Selenium Test Automation Framework from Scratch – Basic Level
Requirements
Basic Understanding of Selenium WebDriver and Java
Selenium Java Description
This course will teach you about developing a test automation framework from scratch. This is the Basic level course and at the end of this course, you will learn how to develop a framework, which supports Jenkins execution, Data-driven capability, Maven parameterization, extent reporting, logging, and many other parts.
To take this course you should have some basic understanding of Java and Selenium. The advanced level course will be followed by this.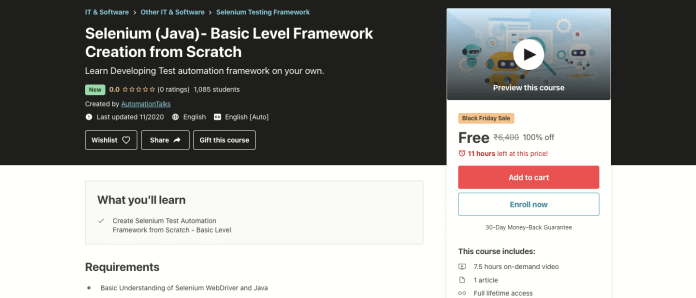 Who this Selenium Java course is for:
Manual Testers, Automation testers with Basic selenium and Java knowledge
Software Engineer by Profession, Love to teach & Explore
Software Professional, with rich exp in IT Industry, Passionate blogger, love to teach. Love to explore the technologies used for automation testing. I am here to share my knowledge if it can help others around the globe.
My experience includes Automation testing (Using Selenium WebDriver) & TOSCA TestSuite, Working on various DevOps tools. On my profile, you can find video courses for Automation Testing Tools.
This course includes:
7.5 hours of on-demand video

Certificate of completion