Quinbay Technologies Interview Questions: In this post, we will share the latest interview questions asked by the interviewers of Quinbay Technologies.
We are sharing these interview questions because it may help others get an overall idea of which types of interview questions they may face during the interview in Quinbay Technologies.
For these interview questions, We Thank Vijay K for coming forward and sharing these Testing interview questions with us. We hope this also motivates others to share their interview experience and questions.

Still, we need your Love & Support to build a better platform for our fellow Testing Community to make such a wonderful platform where a QA can get the real-time testing interview questions in a single place.
Quinbay Technologies Interview Questions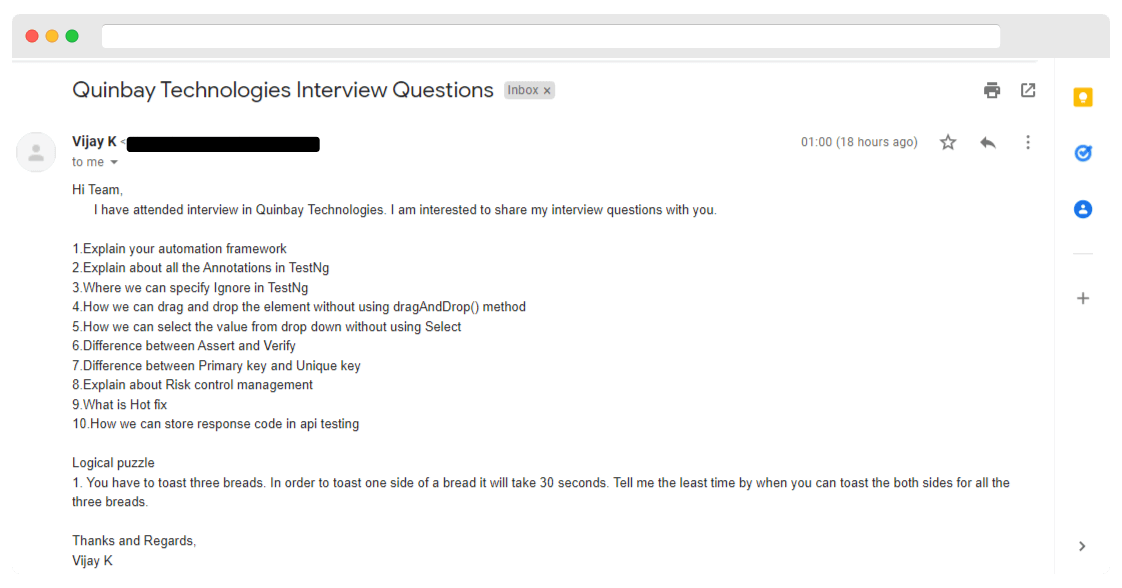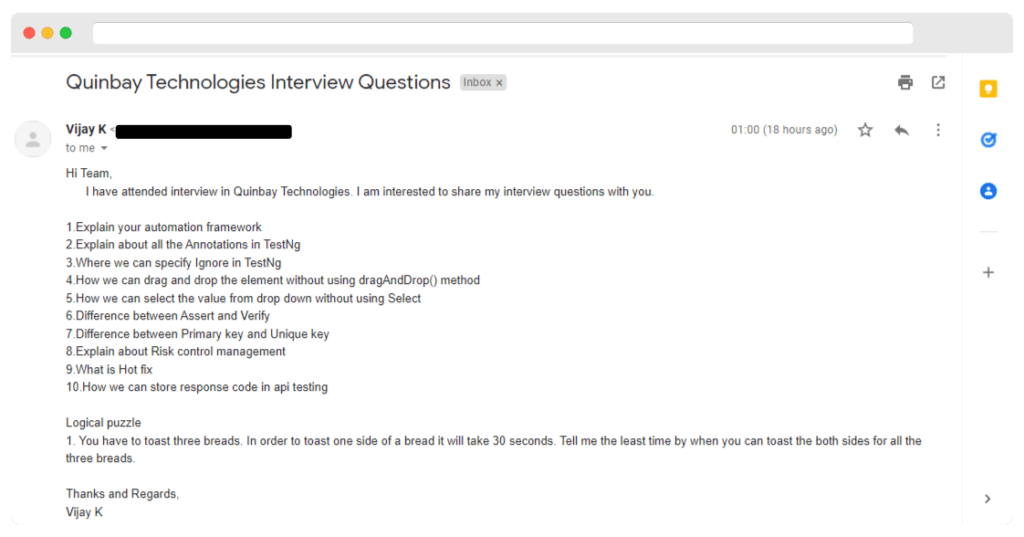 Explain your automation framework
Explain all the Annotations in TestNg
Where we can specify Ignore in TestNg
How can we drag and drop the element without using the dragAndDrop() method
How can we select the value from the drop-down without using Select
Difference between Assert and Verify
Difference between Primary key and Unique key
Explain Risk control management
What is Hotfix
How can we store response code in API testing?
Logical Puzzle
You have to toast three pieces of bread. To toast one side of bread, it will take 30 seconds. Tell me the last time you could toast both sides for all three pieces of bread.
Conclusion:
We hope these interview questions help you crack the interview.
About Quinbay Technologies
We are innovators & disruptors with a passion for thinking out of the box to solve your problems and deliver them with quality and speed. Customers are foremost for us. We believe in our small, focused teams imbibing the customer's true needs and delivering the best solution.
Agile processes, the most automated DevOps, and our proprietary Q3P processes tuned for quality & speed allow us to deliver with the best velocity. Tech platforms should talk to each other. Integration and interoperability are the keys to a better user experience.
We focus our passion on digital innovation. Our high-performing teams of highly talented and committed people – build the future of eCommerce. We have the vision to create future tech for eCommerce. It is a journey; along the way, we are addressing core problems in software delivery & business.
FAQS on Quinbay Technologies
What is the Quinbay Technologies address?
Here is the address of Quinbay Technologies: 1029, 24th Main Rd, 1st Sector, HSR Layout, Bengaluru, Karnataka 560102