English Launch: Learn English for Free: Improve all areas of your English in this taster course. Learn from a native British speaker to become more fluent.
What you'll learn for English Launch: Learn English for Free
Speak English with more confidence and clarity
Use the target English with precision
Understand the areas of English that must be mastered to become more fluent
Have a deeper knowledge of English and how it works
Requirements For English Launch
A desire to improve your English through practice
Description About English Launch
English Launch is a free general English course taught by me, Anthony, a native British English speaker. You will learn the target English at a deep level so that you can sound more native-like when you speak English.
Start to speak with more confidence and variety by upgrading your English!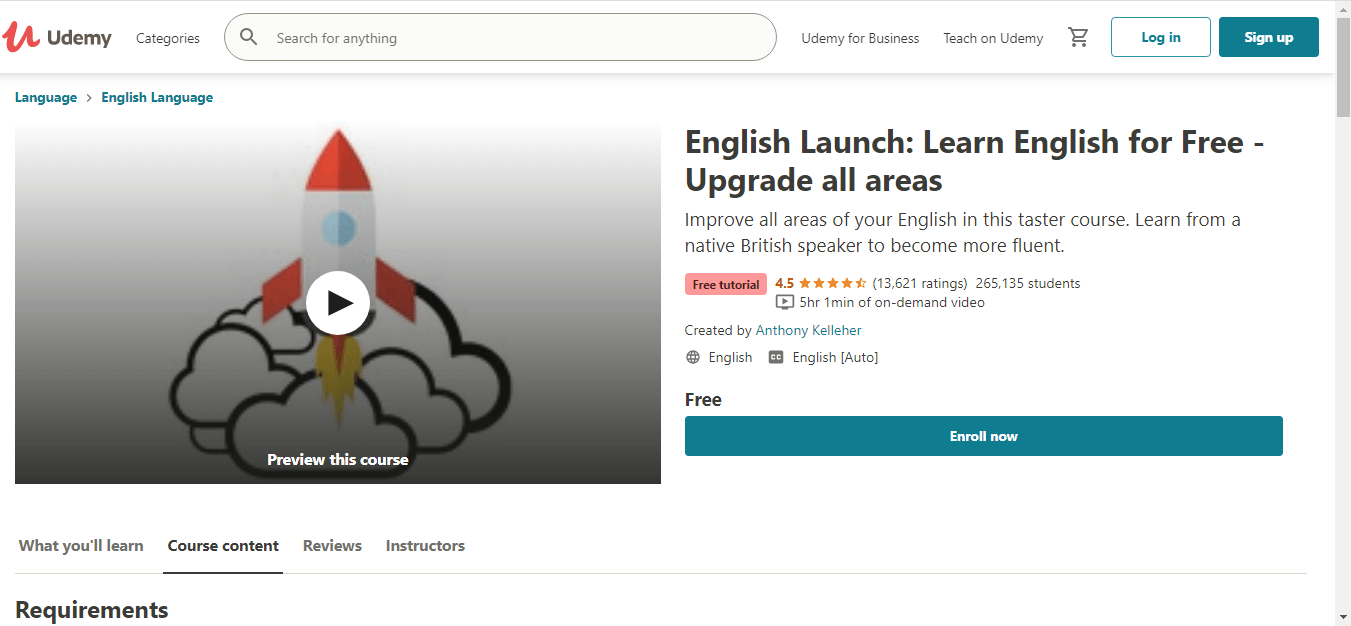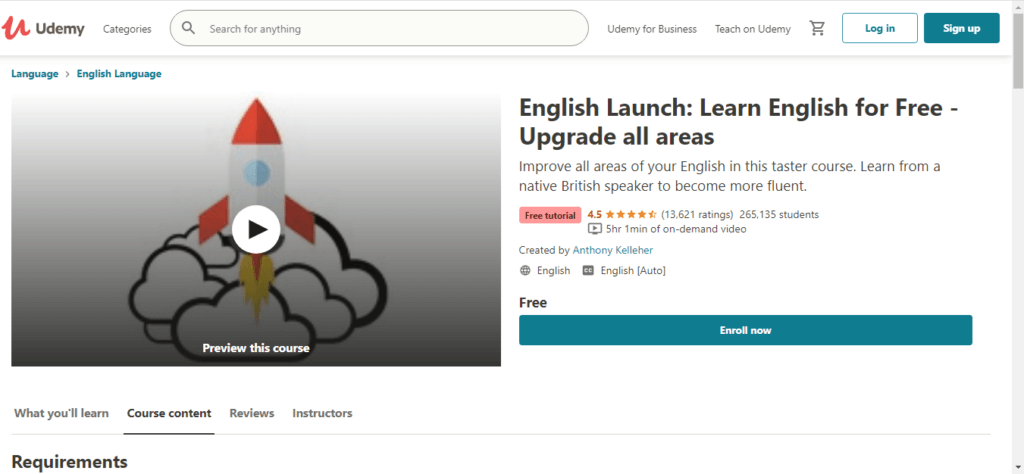 This course includes:
pronunciation upgrade lectures
grammar upgrade lectures
vocabulary upgrade lectures
speaking and listening upgrade lectures
lots of practice videos
future updates – this course will continue to grow and grow
PDF downloads
and MP3 downloads so that you can learn anywhere, any time.
Each section focuses on a carefully selected area of English so that you can master each area and speak English more accurately,
This course is extremely detailed, so you can fully master the target English.
If you want to speak English more clearly, if you want to sound more native-like, or if you simply want to take your English to a higher level, this course can help you achieve your goal of taking your English to the next level.
Who this course is for:
Take this course if you want to upgrade all areas of English: pronunciation, grammar, vocabulary, speaking, and listening
Take this course if you want a more native-like, British accent
Take this course if you want to take your English to a higher level
Instructor: Anthony Kelleher
Hello there.
My name is Anthony, and I'm from London, England. I have thousands of students enrolled in my Udemy courses, which focus on learning English as a foreign language. My courses have some of the highest ratings in the Learning English category on Udemy.
I have a bachelor's degree in TESOL (Teaching English to Speakers of Other Languages) and Linguistics, and I have taught thousands of students all over the world for the past 10 years. My teaching has brought me from London to China to South Korea. I have now returned to London where I run a successful language school.
More recently, I have developed my online presence under the Sir English brand and on Udemy. I also create materials in the ESL field.
Send me a message if there are any particular topics you would like me to focus on for future courses in English as a second language field. I look forward to hearing from you.